Fall Instructional Developmental League 2023
Introduction
USI Baseball coach, Tracy Archuleta, and staff will host the annual Archuleta Baseball Camps Fall Instructional and Developmental League for high school aged players. This provides an opportunity to improve your skills in and receive drills and instruction. Players from Indiana, Kentucky and Illinois have competed in previous years. Numerous players on our current USI roster are former fall league participants.
2023 Schedule
Each team will be scheduled to play 6 games over 6 consecutive weeks. (Game Dates: Sept. 10th, 17th, 24th, Oct. 1st, 8th, 15th)  five games will be guaranteed if rainouts occur. The first games will be scheduled for Sunday, September 10th. We ask that participants arrive 30 minutes prior to their scheduled game time each day.  All games this year will be played on Sundays only!
Special rules
Everyone on the team bats. We will max rosters sizes to 13 participants for maximum participation. Every attempt will be made to rotate all players. No one will just "sit the bench."
Games are seven innings or a two-hour time limit.
Instruction
To maximize the learning experience of the players, there will be no "In & Out", instead players will receive skill instuction before the instructional games.
Instruction will be given before, during, and after each of the instructional games to all players. The Archuleta Baseball Camps coaching staff and will give all instruction.
Equipment
Each player will be required to bring his own spikes, baseball pants, baseball helmet, mitt, bat and cap.  Catchers need to have their own gear. Game shirts will be issued prior to the first game.
Rosters
Players will be placed on teams as they sign up.  If you are wanting to guarantee that you are teammates with certain players, you must sign-up early and together.  Players registering early, will have priority over those who register later!
For transportation conveniences, players from respective high schools will be kept together on a team, especially where considerable travel is involved. IHSAA rules prohibit no more than five players from the same Indiana school can participate on the same team. Attempts will be made to balance rosters with position players and pitchers. Each participant will be expected to declare first and second choice positions. Fall League provides an excellent opportunity to learn new positions.
Fee
A $250 fee will be charged for each participant payable to: Archuleta Baseball Camps. A $150 deposit is due by July 31st to secure your roster spot. You need to be paid in full prior to your first game. If full payment is not submitted by your first game, or you register after July 31st without a deposit, you will be charged $300. The fee includes six weeks of games, and a game shirt.
Deadline
The final registration deadline for the Fall League is Friday, September 1st, 2023, but we will limit the fall league to 8 teams (108 participants). You will be contacted shortly after the deadline to inform you what team you are on and when your first game will be. You will receive a schedule by e-mail prior to the first day, and the schedule will be posted on this website, under the calendar tab.
Group Discount
Groups of 5 or more players that register together will receive a $25 discount ($225). Group rate registrations must be mailed in together/or signed up on the same day to qualify for the $25 discount. The cost to include the showcase camp with this discount is $100.
Information
If you have questions, please contact  the USI Baseball Office at 812-464-1943 or archuleta@usi.edu.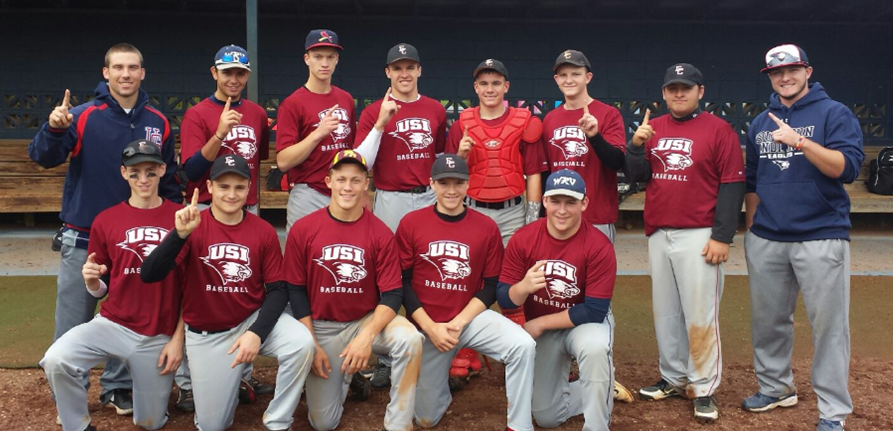 2023 Fall Showcase
The showcase camp will be held on August 20th  for 2024- 2027 high school graduates. This showcase is geared for those who are interested in playing college baseball. This will be an exciting camp for those players who are eager to play at the collegiate level.  Over the past fifteen years, we have had numerous players receive scholarships from many colleges, including USI, by their participation in this camp.  Players will receive quality instruction from coaches at the Junior College, Division II, and Division I levels, as well as professional scouts.   We are excited to have the opportunity to instruct and evaluate the premier talent of the Midwest.
Showcase Information
The Showcase Camp is designed for serious high school baseball players who are determined to play at the collegiate level.  This is a tremendous opportunity to be instructed and evaluated by a wide range of collegiate coaches at all different levels, as well as professional scouts.
The camp will be run in a pro-style format and will allow players to display their skills in the following areas: hitting, fielding, pitching, and catching.  At the beginning of the showcase, each player's running will be recorded.  The defensive evaluations will follow, displaying each player's fielding and throwing ability from a defensive position.  Players will then take batting practice to show their offensive skills.  Pitcher will throw in a bullpen setting to be evaluated.
Fee
The cost for this showcase is $150 but if you are a 2023 Instructional Fall league participant the cost is $100. The showcase will begin at 10:00am, registration will begin at 9:15am CST.
Lunch is also provided.
Information
If you have questions, please contact the USI Baseball Office at 812-464-1943 or archuleta@usi.edu.